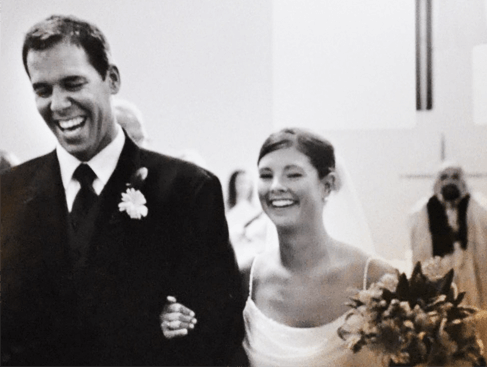 Present Day
and
Our Family
The restaurant in Kill Devil Hills, the original store, is now run by son, Nick and his wife, Dawn. Perry & Kiki purchased a second location and converted it to a Stack 'em High in the late 80's. The Kitty Hawk store is run by son, Steve and his wife, Kristine.

Nick has a degree in Economics from the University of North Carolina at Chapel Hill and dabbled in international banking for a short span before coming home to work with his family at the beach. Dawn has a degree in English from Mount Union College in Ohio and worked in hospice care before meeting Nick at a Rotary meeting while on vacation on the Outer Banks. After a long distance relationship, the two were married and have two children, Eleni Grace and Theo Nicholas. Nick and Dawn's extended family include the staff of Stack 'em High as many of them have worked with the Kiousis family for years.
Our History And

How We Started
The "Founder" of Stack 'em High, Perry Kiousis immigrated to the United States in the early 1960's from Greece. He entered New York Harbor by boat and sailed under the open arms of Lady Liberty like so many other determined, young men and women. He worked for his uncle in his hot dog shop in Pittsburg for several years before being joined by his bride, Kiki. They learned to speak the language by listening to the customers and practicing to each other. They needed no education; however, on how to work hard or how to make the most of every opportunity. Soon, they were running shops of their own and had two sons, Steven and Nick.
On a vacation to Virginia Beach, they discovered a spit of sand, known as the Outer Banks. After an abbreviated business meeting and a decision to follow his intuition, Perry welcomed his family to their new home, North Carolina. They ran the Point Harbor Restaurant at the foot of the Wright Memorial Bridge for ten years, serving breakfast, lunch and dinner. People of all walks of life and from all over the region, flocked to the new home of Greek and coastal cuisine. Their famed "corn cakes" are still the topic of conversation amongst those with memories of the Point Harbor. Just months into a planned break from the restaurant business, Perry sat up in bed one night and told Kiki..."I've got it. We'll sell pancakes and we'll call the place Stack 'em High." She asked how he planned on making a living on pancakes and he answered they would sell some other items as well, "you know, so forth." So in 1981, Stack 'em High Pancakes and So Forth was born. The concept was honed in a matter of days, the land was purchased and the building was built in less than three months. Now, nearly forty years later, we are proud to be making a living on pancakes and so forth.
Music And
Travel
Travel and music are two of our loves. Having spent time visiting other places around the world we appreciate what it means to start the day with a hot drink and a great meal. Once you've got your foundation in order there's nothing like good music to set your life in motion. A few of our favorite bands that have our ear at the moment include: Colin Hay, U2, Sam Bush and David Grisman, Mandolin Orange (a new bluegrass duo out of Chapel Hill), Coldplay, the Dead. We'd love to hear a bit more about your tastes so feel free to get in touch and say hello!
Our
Environmental Commitment
Stack 'em High is proud to recycle all glass, plastic and cardboard used in the restaurant by participating in a pilot program offered by Kill Devil Hills Public Works. We recycle "gray water" to decrease our consumption of water. In 2018, we ceased the distribution of plastic straws and made them available upon request only. In the near future, we will be converting to compostable straws and take out containers. We train our staff to be conscientious of their energy use and take steps as an organization to decrease our consumption of energy as a whole. Every little bit counts toward a healthier and happier planet, and we're all in.
Community
Engagement


And Event Sponsorship

We are proud to sponsor many community events and to be involved in issues that effect our quality of life close to home and beyond. Nick is a member of the Dare County Board of Health and is active in many community events. Stack 'em High is an annual sponsor of the annual Nags Head Woods Run and the Outer Banks Marathon which in turn supports the Dare Education Foundation and the Outer Banks Community Foundation. We are proud sponsors and friends of Jockey's Ridge, The Lost Colony, Food for Thought, Theater of Dare and the Food Bank of the Albemarle.
Dawn makes special banana bread and Grateful Granola for many events and can often be found wrapping gift baskets for charities to countless endeavors around the beach. Look for us at the 12 milepost in Nags Head Woods during the Outer Banks Marathon. It's great to see lots of familiar faces at our events and we are excited to offer our support each year!